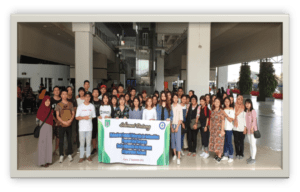 Guangxi University for Nationalities students are some of the international students in Universitas Nasional. There are already 8 batches of students from GXUN who came to study ever since the cooperation between UNAS and GXUN took place in 2010. The students have been studying in the Indonesian Literature Study Program of the Faculty of Letters and the Management Study Program of the Faculty of Economics and Business.
The cooperation started with a 2+2 program for the students from the three-year diploma program in GXUN International Education College. Then it developed into an exchange program for students from Mandarin Department to practice teaching in the high schools in Jakarta that included Mandarin language in their curriculum.
The cooperation continued to develop with other Departments and Schools in GXUN. Recently the School of Law came to meet with their colleagues from the Faculty of Law UNAS to meet with the South Jakarta Court, the office of South Jakarta Attorney, and PERADI, the association of Indonesian lawyer. In return, UNAS is invited to send students and faculty members to GXUN to study, do internship, joint conference, and joint research.
The strengthening of the cooperation continues in which the Graduate School of Mandarin Studies will collaborate with Center for Chinese Culture, UNAS, to provide trainings for GXUN students to practice teaching and conduct observation of the teaching of Mandarin language in the high schools of Jakarta.
The current Corona Virus-Covid 19 disease that resulted in the closing of UNAS and forced it to adopt full online teaching until the mid semester and the Large Scale Social Restriction that was issued by the Governor of Jakarta, Dr. Anies Baswedan, has made some of GXUN students unable to return back to China and thus have to stay in Jakarta.
Dr. Suryono Effendy, the Dean of the Faculty of Economics and Business, met and gave the students the opportunity to take the online classes. Unfortunately, it could be applied to the students who had returned back to China due to technical problem, one of them being the language issue. The same policy has been taken by the Dean of the Faculty of Letters, Mr. Somadi Sosrohadi, Mpd.