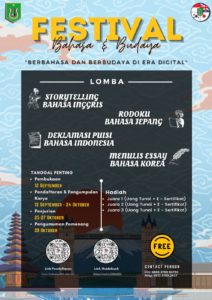 Hello, sahabat sastra!
Hello, fellas!
皆さん、こんにちは
안녕하세요 여러분~
Faculty of Languages and Literature, Universitas Nasional proudly present
To celebrate Bulan Bahasa, Universitas Nasional, Faculty of Languages and Literature held a "Festival Bahasa dan Budaya" with a spectacular theme "Berbahasa dan Berbudaya di Era Digital."
There are several exciting competitions to liven up this event; check it out!
Senior High School level:
1. Poetry Declaration 🇮🇩
2. Rodoku🇯🇵
3. Story telling in English🇦🇺
General:
1. Korean Essay 🇰🇷
Now it's time for you to register and win the exciting prizes!
Free Entry🥳
✨Registration✨
September 12th 2021.
✨Work Submission✨
September 12th – October 24th 2021
✨Assessment✨
October 25th – October 27th 2021.
✨Winner of Competition✨
October 28th, 2021
This event can also be an opportunity to show your skill, so what are you waiting for? Let's register now! Don't miss it 🤗
Registration link
https://bulbasfest2021.carrd.co/
Contact person:
+62 812-8189-2437 (rifqi) WA chat only
+62895376950755 (dini) WA chat only
#fbs
#sasindo
#sasing
#sasjep
#bakor
#unas1949
#festivalbulanbahasa2021
#semarakbulanbahasa
#bahasaberbudaya